PicoSure® Tattoo Removal
Unprecedented Innovation in Laser Technology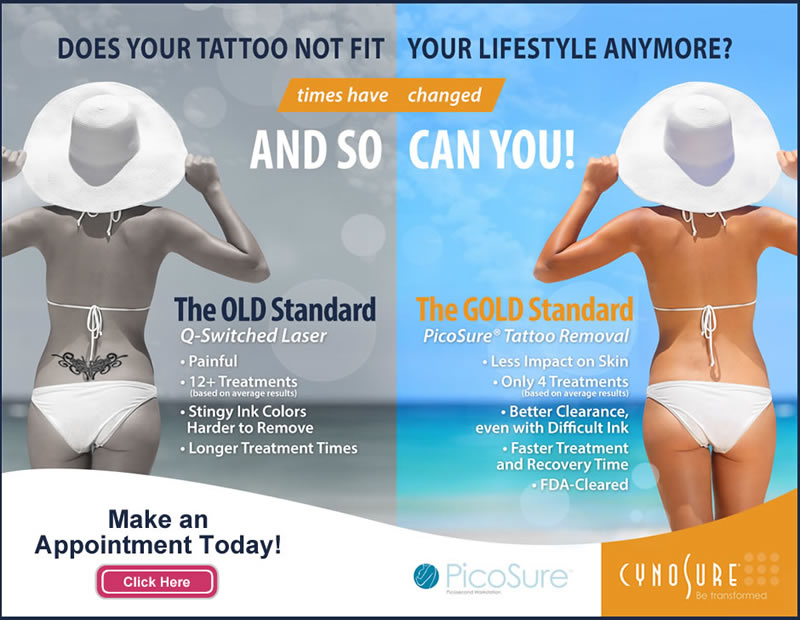 Cynosure/PicoSure®, the world's first and only picosecond aesthetic laser, is recognized as a breakthrough in tattoo removal. FDA-cleared, PicoSure® will help you achieve visibly clearer, ink-free skin even with difficult ink colors such as blues and greens, as well as previously-treated tattoos. Fewer treatments, better clearance, and improved recovery time... the new Gold Standard in tattoo removal available at Faces.

One of the chief benefits of tattoo removal with the PicoSure® laser is its efficiency. Based on average results with other laser platforms (Q-Switched), treatments sessions averaged 12+. The PicoSure® laser averages around four to six treatment sessions with faster treatment and recovery time.

PicoSure® uses a PressureWave™ technology to provide greater disruption of the clients tattoo ink, which provides better clearance with fewer treatments without injury to the surrounding skin. As the ink is fractured into smaller particles they are removed by the body's immune system. The tattoo is faded gradually with each treatment. The tattoo pigment destruction is much more complete with PicoSure® than with standard YAG tattoo removal lasers. Consult with one of Faces of South Tampa's providers at your complimentary tattoo removal consultation to better understand this advanced incredible technology.


| | | |
| --- | --- | --- |
| | | |
PicoSure® FAQs
Does tattoo removal hurt?

The providers of Faces of South Tampa are committed to making the tattoo removal procedure as comfortable for their clients as possible. Because laser removal can be uncomfortable, sometimes providers offer a topical numbing agent to numb the area before treatment. Treatment also includes air cooling of the skin area during the procedure. Remember, the procedure is very fast; most treatments take only minutes for each area being treated.


How often will I need treatment?

Typically it takes about 6-7 weeks for the body to start breaking down the ink and even though the tattoo may appear healed, it is not. Getting treated sooner than that will not remove the tattoo any quicker.

Will I see results after the first treatment?

Every client and tattoo responds differently. Some clients see improved clearance after the first treatment, while others may take a few treatments to see results. Following the recommended post treatment protocol will likely improve the results.