About Faces of South Tampa
Faces of South Tampa truly brings it all together by reinventing the patient-practitioner relationship, offering clients a level of personal attention that is second-to-none. With a great location, a solid team of professionals, and the best aesthetic products and service available from BOTOX® Cosmetic and JUVÉDERM®, to CoolSculpting®, LATISSE® and top-of-the-line, prescription-grade peels and facials, Faces of South Tampa provides its discerning clients with the best in the business.


- Mike Puleo - Owner & Practice Manager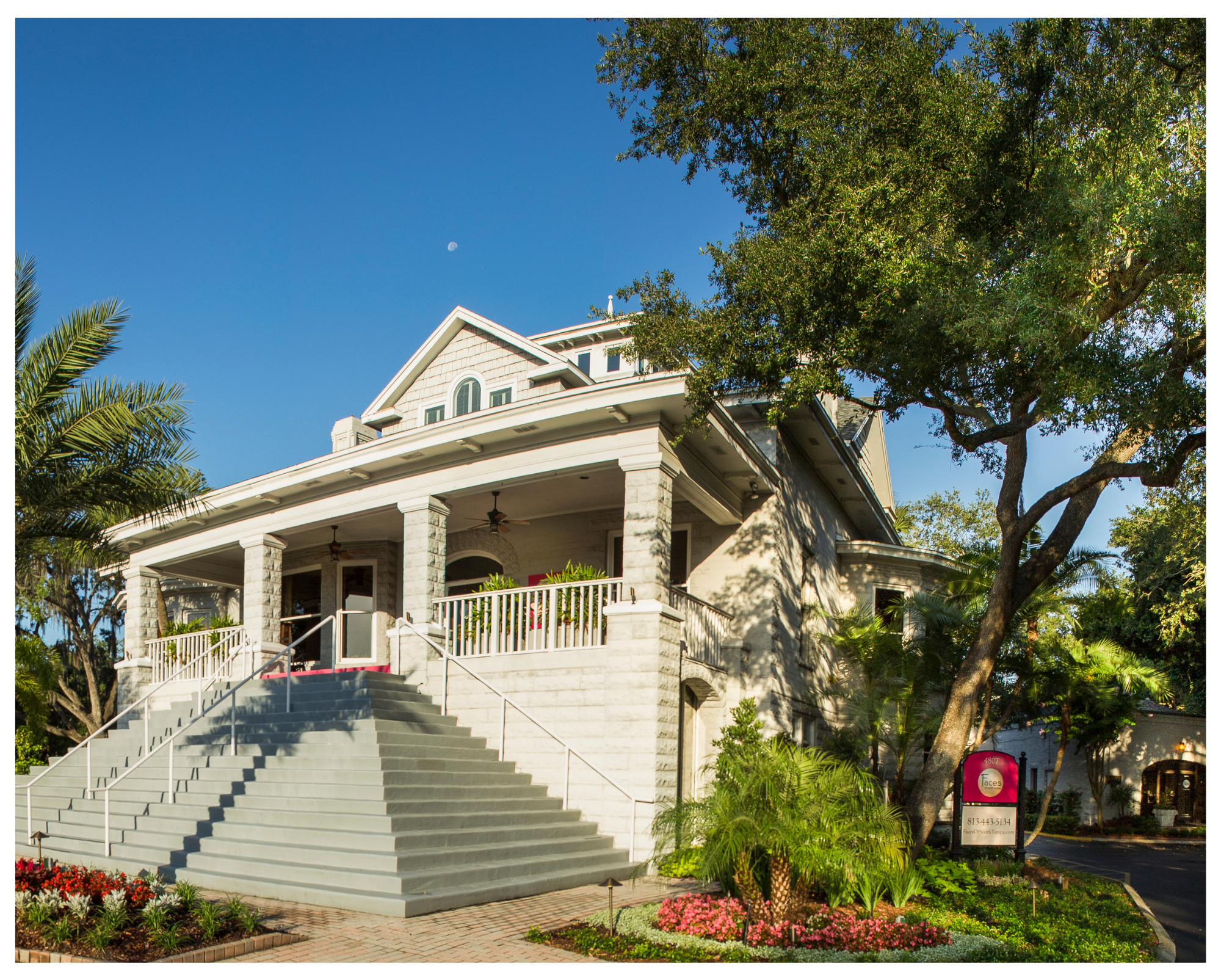 Located inside Bayshore Boulevard's glamorous Bigelow-Helms Mansion, Faces of South Tampa has been the area's most dependable name in aesthetics and skin care since opening in 2009.

But before Faces moved in, the mansion had lived a number of lives. First built by city council member Silas Leland Bigelow in 1908, the house was sold to Dr. John Sullivan Helms in 1917 and functioned as the first private hospital on Florida's West Coast. Bayside Hospital welcomed babies and cared for patients until 1927, when Tampa General Hospital opened on nearby Davis Islands. Helms' widow lived there until her death in 1974. In 1990, the mansion was lifted and moved closer to Bayshore to allow for the construction of apartments behind it. The current first floor and additional external stairs were added to the mansion at the same time, and the smaller building, the Carriage House, was left intact.

Thirteen years ago, Faces owners Mike and Jen Puleo, ARNP, elevated the modern medical aesthetics concept by infusing the upscale facility's historic South Tampa charm with New York City's urban energy. The result: Faces of South Tampa.

Faces debuted in the Carriage House, where staff still provides clients with cutting edge facials, eyelash extensions, prescription grade peels and industry-leading aesthetic services like dermaplaning, HydraFacial® and microneedling in one of three treatment rooms. In 2012, Faces expanded into the stunningly-restored three-story Bigelow Mansion, featuring nine spacious, elegant and relaxing treatment rooms, multiple retail centers, and an abundance of space for patients to unwind. By 2013, Faces of South Tampa quickly became one of the nation's top providers of Allergan products (such as BOTOX® and JUVÉDERM®). Faces now owns and occupies all 12,000 square feet of the combined facilities, making it one of the largest med spas in the nation.

On the mansion's second floor, Faces offers the best in injectable services, including tried-and-true favorites like BOTOX® Cosmetic, JUVÉDERM®, Restylane®, Kybella® and Sculptra® Aesthetic. Faces also offers newer innovations like LED Light Therapy and NovaThreads®, an FDA-approved procedure that uses PDO-absorbable sutures to lift, tighten and smooth skin without incisions for immediate, natural-looking results.

On the first floor, Faces boasts a one-of-a-kind Device Facility, where you'll find leading-edge laser treatments like IPL (Photo Facial), fractional skin resurfacing, laser hair removal and PicoSure® Tattoo Removal. You'll also find dedicated CoolSculpting® and Ultherapy® treatment rooms, and an additional retail skin care center, featuring medical-grade skin care including SkinMedica®, SkinCeuticals® and Obagi®; mineral makeup product lines such as Colorescience® and Glo Skin Beauty; and much more.

Faces of South Tampa's expert team reinvents the patientpractitioner relationship by offering clients a level of personal attention in a gorgeous, comfortable setting that is unparalleled by any other aesthetics center. "When we started, we had this vision of what Faces of South Tampa would be, with everything centered on a model of impeccable customer service combined with undeniable, superior results," Mike Puleo says. By staying on top of the latest advances in medical aesthetics and providing each client with an elite level of service, Faces has become a destination for the best in beauty.

Click here to visit our Staff Page.
---



Faces Mansion & Carriage House Operating & Retail Store Hours:
Monday - Friday 9am - 5pm (please call first if planning to visit our store outside of these hours)
Closed Certain Holidays (check website for Holiday Closings)
Available Appointment Times:
Mon: 9:00am-6:00pm Tues: 9:00am-7:00pm Wed: 9:00am-6:00pm
Thurs: 9:00am-6:00pm Fri: 9:00am-5:30pm Sat: 9:00am-4:00pm
Online Store Hours:
24 hours / 365 Days (except during maintenance windows)



South Tampa: 4807 Bayshore Blvd., Tampa Florida 33611 • (813) 443-5134 • Fax: (813) 200-3571

Copyright © 2015 Faces of South Tampa | All rights reserved | Reschedule / Cancellation / No-show

Participating Member • Allergan Partner Privileges® • Top 3 Practice


This practice is required, by law, to maintain the privacy and confidentiality of your protected health information and to provide our patients with notice of our legal duties and privacy practices. Gerard C. Mosiello, MD., Medical Director - Board Certified Plastic Surgeon